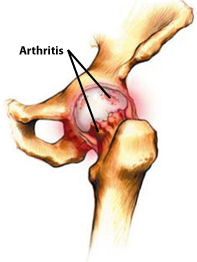 youch
Ya know…it must come with age or something. Or gravity, or luck of the draw. One thing's for sure: arthritis was always an "old person" term for me — until now. To my fiends who don't suffer with it, I say this: when you see commercials for "relief for arthritis pain" and the like, don't desensitize yourself, because someday it could be you. I never considered getting it myself, and now that it's here, arthritis means infinitely more than an annoying commercial during Indians games. Like…the pain is really, really
real
, and there's no other pain quite like it
.
I apologize retroactively to every person who ever told me he or she suffered with arthritis, after which I thought, "stiff, achy joints, but nothing life-threatening."
Hence, my lucky day today. On the menu this morning is fluoroscopy. Yippy for 6-inch needles in my hip joint (although the physician's assistant told me it's not the length of the needle that gets ya, but the circumference). Not that I necessarily have an aversion to needles, mind. (Oy.) Anyway, they're going to see how much of my pain is arthritis, and how much, if any, is due to soft-tissue damage. The doc gave his plan of attack over the phone yesterday:
Fluoroscopy, maximum of three injections. If that doesn't work…
Steroids with mild physical therapy. If that doesn't work…
Arthroscopy to clean up the joint. If that doesn't work…
Hip resurfacing. If that doesn't work…
The Grand Salami.
I know all this is a bit on the personal (or TMI) side, but many of you have asked about what's going on, so I thought I'd update everyone at once. And truthfully, I'm glad to start small on the fixit scale, and work my way up if necessary.
Has anyone had this procedure? If so, please provide gory details. Hugs to all, and thanks for your concern for this creaky hag. And hey, all will be well and dandy this evening — dinner date with Helen and Lars!
FO