I do like to observe, I'll grant you. Then I like to comment. Behold…a morning glance at Yahoo's "Most Emailed Photos" gives pause for Finkservations: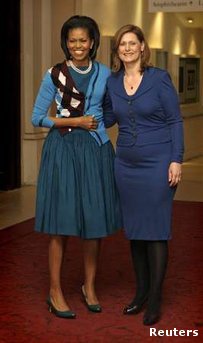 Seems to me the wife of the PM of Great Britain would have access to a full-length mirror. Girlfriend, BCIYS! (Buy Clothes In Your Size)
Er....
Taken at a California fruit market. All righty...
Dude. You're the president, fuh cripesake. Granted, the president of *France*, but still...
Stewwoid abuse? Vat iz diss stewwoid abuse of which you speak?
Redneck was cited for DUI on this thing. Only in Ohio.
All right. Time to hit the books (like it'll do any good at this point).
Fink out.